You are here
Back to top
Living on the Surface: New and Selected Poems (Paperback)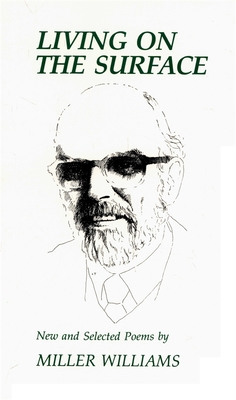 $19.95
Usually Ships in 1-5 Days
Description
---
Federico Garc a Lorca did not know Miller Williams, of course, but he was describing him when he told us that a poet is "professor of the five senses." The poems in this collection cover thirty years of loving contact with the endlessly varied surfaces of the world. They are poems in which the common furniture of our lives is always present, in which the universal resides in the local, in which elegance is born of clarity.
We have enough to fret about.
Almost all of us concur,
we'll live with the holidays we have
and the grace of God as if it were.
("He Speaks to His Arguing Friends and to Himself") The poems are moments from human lives turned into art, but never removed from where they were found. Grass grows out of every sidewalk crack.
Briars have taken the garden.
The arteries of the old dog harden almost audibly.
The basement door is broken and the mice are back.
("A Summer Afternoon An Old Man Gives Some Thought to the Central Questions") As John Ciardi wrote of Williams and his work, "Taken beginning to end, as both the word and the fact go, these are remarkable poems for--among other things--the deceptively plain straightforwardness of them. Miller Williams writes about ordinary people in the extraordinary moments of their lives. Even more remarkable, doing this, is how perilously close he plays to plain talk without ever falling into it; how close he comes to naked sentiment without yielding to it; how close he moves to being very sure without ever losing the grace of uncertainty. Add to this something altogether apart, that what a good reader can expect to sense, coming to these poems, is a terrible honesty, and we have among us a voice that makes a difference."
About the Author
---
Miller Williams (1930-2015) was the author, editor, or translator of several books, including, Patterns of Poetry: An Encyclopedia of Forms and Making a Poem: Some Thoughts about Poetry and the People Who Write It. Among his many honors are the Amy Lowell Traveling Scholarship in Poetry from Harvard University, the Poets' Prize, the Prix de Rome for Literature, and the Academy Award for Literature, the latter two both from the American Academy of Arts and Letters. He was inaugural poet for Bill Clinton's second swearing-in as president, and he is the father of three-time Grammy Award-winning singer and songwriter Lucinda Williams.