You are here
Back to top
The Great Oklahoma Swindle: Race, Religion, and Lies in America's Weirdest State (Hardcover)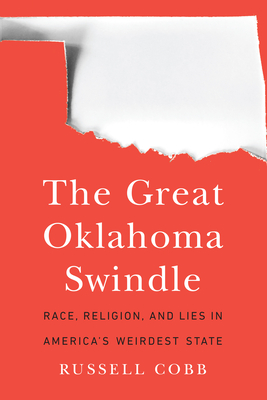 $29.95
Usually Ships in 1-5 Days
Description
---
An Oklahoma Bestseller

Look down as you buzz across America, and Oklahoma looks like another "flyover state." A closer inspection, however, reveals one of the most tragic, fascinating, and unpredictable places in the United States. Over the span of a century, Oklahoma gave birth to movements for an African American homeland, a vibrant Socialist Party, armed rebellions of radical farmers, and an insurrection by a man called Crazy Snake. In the same era, the state saw numerous oil booms, one of which transformed the small town of Tulsa into the "oil capital of the world." Add to the chaos one of the nation's worst episodes of racial violence, a statewide takeover by the Ku Klux Klan, and the rise of a paranoid far-right agenda by a fundamentalist preacher named Billy James Hargis and you have the recipe for America's most paradoxical state. Far from being a placid place in the heart of Flyover Country, Oklahoma has been a laboratory for all kinds of social, political, and artistic movements, producing a singular list of weirdos, geniuses, and villains.

In The Great Oklahoma Swindle Russell Cobb tells the story of a state rich in natural resources and artistic talent, yet near the bottom in education and social welfare. Raised in Tulsa, Cobb engages Oklahomans across the boundaries of race and class to hear their troubles, anxieties, and aspirations and delves deep to understand their contradictory and often stridently independent attitudes. Interweaving memoir, social commentary, and sometimes surprising research around the themes of race, religion, and politics, Cobb presents an insightful portrait that will make you rethink everything you thought you knew about the American Heartland.
 
About the Author
---
Russell Cobb is an associate professor in Latin American studies and creative writing at the University of Alberta. His nonfiction writing has won many national and regional awards. He is the editor of The Paradox of Authenticity in a Globalized World and the reporter of the This American Life story that served as the basis for the Netflix film Come Sunday. His journalism has appeared in the New York Times, the Guardian, Slate, and the Nation, and on NPR. 
 
Praise For…
---
"This unflinching look at Oklahoma's singular past helpfully fills in lesser-known aspects of the historical record."—Publishers Weekly
— Publishers Weekly
"The Great Oklahoma Swindle shows that Oklahoma's story is all-American in a compressed timeline. That Cobb stands toe to toe with his state and never blinks makes this project a compelling read."—Matt Sutherland, Foreword Reviews
— Matt Sutherland
"The Great Oklahoma Swindle is a selective window to the historical and cultural geographies of the wider American South and southern Plains. . . . For the geographer and layperson alike, it is an outstanding, timely, and accessible primer for better understanding how much the U.S. is shaped by the converging legacies of neoliberal governance, settler colonialism, and systemic racism. Loving a place is not always easy, but Russell Cobb's The Great Oklahoma Swindle sets an exemplary and thought-provoking model for other writers to follow in the twenty-first century American scene."—Robert Briwa, Journal of Geography
— Robert Briwa
"Russell Cobb has done for his hometown of Tulsa and state of Oklahoma what James Joyce did for his Dublin and Ireland in Ulysses, populated with unforgettable characters. Cobb accomplishes this through storytelling, every page glowing with truth and compassion."—Roxanne Dunbar-Ortiz, author of Red Dirt: Growing Up Okie
— Roxanne Dunbar-Ortiz
"The Great Oklahoma Swindle is that rarest thing: a treasure well gotten. Cobb has all the gifts of a storyteller, a journalist, an ethicist, and an anthropologist. The substance of the book is modern tragedy, but the sense of the book is the joy of heartfelt inquiry and analysis."—Rivka Galchen, author of Little Labors
— Rivka Galchen
The Great Oklahoma Swindle should be required reading for every citizen of the state, especially schoolchildren. As a human geographer and writer of history, I am truly impressed by how Cobb has unwrapped the exaggerations, stereotypes, and hidden history of Oklahoma to present a refreshingly accurate account of this puzzling place that I love, warts and all."—Michael Wallis, best-selling author of The Best Land under Heaven: The Donner Party in the Age of Manifest Destiny
— Michael Wallis
"A swindle is a fraudulent scheme or action taken by those with the intention of using deception to deprive someone of money or possessions, sometimes just dignity. Russell Cobb has penned one of the most direct, frank, rough, rustic, reasoned, and realistic approaches to a deep dark side of what was intended to be deep dark secrets at the core of Oklahoma's red soil, red soul, and redneck essence with regard to its grit, greed, grandeur, and contrived gravitas, based in faith, farce, and fraud. I found it profoundly and profanely revealing and educational. It should be required reading for every serious student of history or those who love the truth regardless of how painful or pitiful the honest truth can be."—Rev. Carlton Pearson, progressive spiritual teacher and author of The Gospel of Inclusion, the subject of the Netflix film Come Sunday?
— Rev. Carlton Pearson