You are here
Back to top
True Grit: A Novel (Paperback)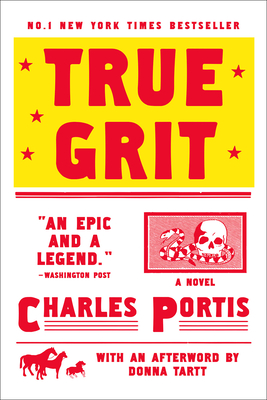 Description
---
The #1 New York Times bestselling classic frontier adventure novel that inspired two award-winning films​

Charles Portis has long been acclaimed as one of America's most enduring and incomparable literary voices, and his novels have left an indelible mark on the American canon. True Grit is his most famous novel--first published in 1968, and the basis for the movie of the same name starring John Wayne. It tells the story of Mattie Ross, who is just fourteen years of age when a coward going by the name of Tom Chaney shoots her father down in Fort Smith, Arkansas, and robs him of his life, his horse, and $150 in cash money. Mattie leaves home to avenge her father's blood. With the one-eyed Rooster Cogburn, the meanest available U.S. Marshal, by her side, Mattie pursues the homicide into Indian Territory. True Grit is eccentric, cool, straight, and unflinching, like Mattie herself. From a writer of true cult status, this is an American classic through and through. This new edition, with a smart new package and an afterword by acclaimed author Donna Tartt, will bring this masterpiece to an even broader audience.
About the Author
---
Charles Portis lives in Arkansas, where he was born and educated. He served in the Marine Corps during the Korean War, was the London bureau chief of the "New York Herald-Tribune," and was a writer for "The New Yorker." True Grit is the basis for two movies, the 1969 classic starring John Wayne and the 2010 version starring Academy Award(r) winner Jeff Bridges and written and directed by the Coen brothers.
Praise For…
---
"How to describe the indescribable? Probably the best description I can give of True Grit is that I've never given it to any reader — male or female, of any age or sensibility — who didn't enjoy it."
— Donna Tartt
"Skillfully constructed, a comic tour de force."
— New York Times Book Review
"Quite simply, an American masterpiece."
— Boston Globe
"Rollicking . . . a beaut narrated in the unforgettable voice of Mattie Ross . . . Portis has crazy-cool literary swagger."
— Entertainment Weekly
"Charles Portis is an original, indescribable sui generis talent . . . Rereading Portis is one of the great pure pleasures—both visceral and cerebral—available in modern American literature."
— Ron Rosenbaum
"It's possible that True Grit is the genuine article—a book so strong that it reads as myth."
— Ed Park
"Charles Portis's True Grit is a masterpiece."
— Anthony Bourdain
"The dialogue in True Grit is exquisite."
— David Mamet
"I've always thought Charles Portis had a wonderful talent—original, quirky, exciting."
— Larry McMurtry
"An epic and a legend."
— Washington Post
"Charles Portis's True Grit captures the naive elegance of the American Voice."
— Jonathan Lethem