You are here
Back to top
Hagar Poems (Paperback)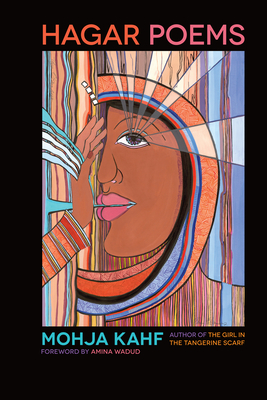 Description
---
"Mohja Kahf 's Hagar Poems is brilliantly original in its conception, thrillingly artful in its execution. Its range is immense, its spiritual depth is profound, it negotiates its shifts between archaic and the contemporary with utmost skill. There's lyricism, there's satire, there's comedy, there's theology of a high order in this book."
—Alicia Ostriker, author of For the Love of God: The Bible as an Open Book
"Hagar/ Hajar the immigrant/exile/outcast/refugee mother of a people is given multiple voices and significance in Mohja Kahf's new book of dramatic monologues, which also reinvents Pharaoh's daughter, Zuleika, Aïsha, and Mary in poems that are at once lively and learned, agnostic and devout. The sequence on an American mosque, and the poet's ambivalent love for what it represents, is unique in American poetry."
—Marilyn Hacker, author of A Stranger's Mirror
"'Where have all the goddesses gone,' writes Mohja Kahf, 'I tracked down Isis / incognito on Cyprus. /She told me Ishtar / lived under the radar / in southern Iraq. . . .' In Hagar Poems, Mohja Kahf's hallmark qualities—irreverence, imagination, wit, poignancy—are all exuberantly in evidence. A wonderful read."
—Leila Ahmed, author of A Quiet Revolution: The Veil's Resurgence, from the Middle East to America
"This brilliant collection captures all the 'patient threading of relationship' between Hagar and Sarah as between women, and then between women and men, between human and God. . . . At every turn of the page [Kahf] refuses complacency and circumstance but opts instead for exposing the tenuousness of threads that tie and bind and then come loose before our eyes."
—From the foreword by Amina Wadud

The central matter of this daring new collection is the story of Hagar, Abraham, and Sarah—the ancestral feuding family of Judaism, Christianity, and Islam.
These poems delve into the Hajar story in Islam. They explore other figures from the Near Eastern heritage, such as Mary and Moses, and touch on figures from early Islam, such as Fatima and Aisha. Throughout, there is artful reconfiguring. Readers will find sequels and prequels to the traditional narratives, along with modernized figures claimed for contemporary conflicts.
Hagar Poems is a compelling shakeup of not only Hagar's story but also of current roles of all kinds of women in all kinds of relationships.
About the Author
---
Mohja Kahf was born in Damascus, Syria, in 1967 to parents who immigrated to the United States in 1971. She is the author of a poetry book, E-mails from Scheherazad, and a novel, The Girl in the Tangerine Scarf.
Praise For…
---
"Forthright and fearless poetry. Kahf brilliantly transposes the disorienting experience of life in the U.S. for many immigrant and marginalized women with the rich history of the Abrahamic religions."
—Booklist, Sept. 2016
"Syrian-American Mohja Kahf's Hagar Poems brilliantly explores the lives of Middle Eastern women over thousands of years, from ancient goddesses to contemporary feminists. … Throughout Hagar Poems, the author accomplishes the amazing marriage of wit and divinity as she describes thousands of years of Middle Eastern women. The women in her poems are survivors. Despite often being exiles and refugees, they can make a new home in the desert, stay in the presence of the divine, and (like Hagar) become the mother of a people."
—Julia Stein, Rain Taxi, Summer 2017
"In a world where Islamophobia, hijabi Olympians, and burqini bans feature in everyday news, Arab-American poet Mohja Kahf's new collection, Hagar Poems, is timely and relevant, delivering a clear-eyed vision of women in Islam."
—Christian Feminism Today
Hagar Poems surprised me, delighted me, and taught me, helping me to understand the story in unfamiliar ways."
—Glynn Young, TweetSpeakPoetry
"Gut-wrenching, exploratory and entertaining, Kahf's poems wind through history, through narratives of the Abrahamic traditions and through voices of 'crowds' and power brokers of all times …. To say these poems remind us how connected we are is an understatement."
—Seminary Ridge Review, Autumn 2016
"In every list helping with despair, it helps to have an activist who can still find joy in the world. If you need to laugh through your tears, Syrian American Kahf is your woman. A professor, poet, and member of the Syrian Nonviolence Movement, Kahf's strength is her ability to be outrageous, satirical, and lyric all at once. I'd recommend her book
Hagar Poems
because it has one of my favorite sequences and is a good introduction to Kahf's humor, 'Little Mosque Poems:' 'My little mosque offers courses on / the Basics of Islamic Cognitive Dissonance. / 'There is no racism in Islam' means / we won't talk about it / 'Islam is unity means / shuttup.'"
—Claudia Savage,
Electric Lit
, April 2021